Aaltje Van Denburg : Down in the Valley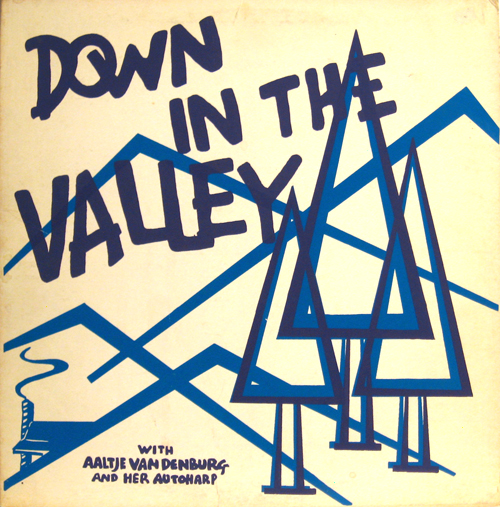 Down in the Valley
Aaltje Van Denburg and her Autoharp
Recorded by Michael Riposo, Syracuse, NY
A Van-Ayr Recording
UTMB Martin, Tennessee
VA 33-103A
12″ LP Album
Of what little info there is to be found of her, Ms. Van Denburg was born in 1919 to parents of Dutch ancestry. Proficient and professional in the arena of arts and crafts, home economics, and interior design – as a folk musician Aaltje had "a wide group of admiring listeners and friends," according to the liner notes on this album anyway. How far and wide her fame actually spread is speculative. Nonetheless, it is obvious she was a brilliant folk musician, and likely that her reputation didn't quite spread as far as her talent warranted. She released at least three albums, Down in the Valley being preceded by Folk Songs for Children, and Somebody's Tall and Handsome. Included here is one of her original compositions, as well as possibly the most beautiful rendition of On Top of Old Smoky one can find.
From the liner notes:
Many consider this to be her best work to date, as she has combined her soft throaty voice with [...] an unusual collection of lonesome and sentimental ballads of the spirit that expresses a yearning for loved ones far away.

A lovely contralto voice that blends well with her auto harp accompaniment is certain to thrill YOU – the lucky listener!
-Bettye L. Giles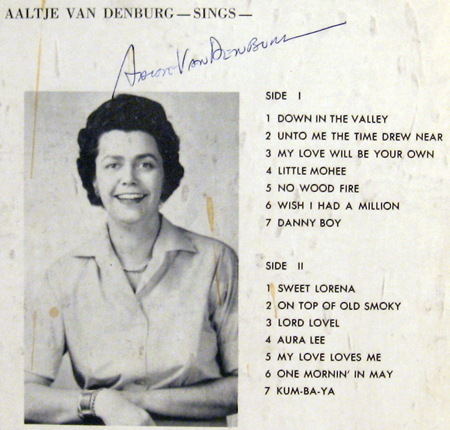 TRACKLISTING:
SIDE 1
Down in the Valley
Unto Me the Time Drew Near
My Love will be Your Own
Little Mohee
No Wood Fire
Wish I Had A Million
Danny Boy
SIDE 2
Sweet Lorena
On Top of Old Smoky
Lord Lovel
Aura Lee
My Love Loves Me
One Mornin' In May
Kum-Ba-Ya
3 Responses to
"Van Denburg, Aaltje : Down in the Valley"
| | |
| --- | --- |
| | L Says: |

| | |
| --- | --- |
| | Ken House Says: |

| | |
| --- | --- |
| | Liz Says: |
Leave Your Feedback
---