Frankie Stein's Monster Melodies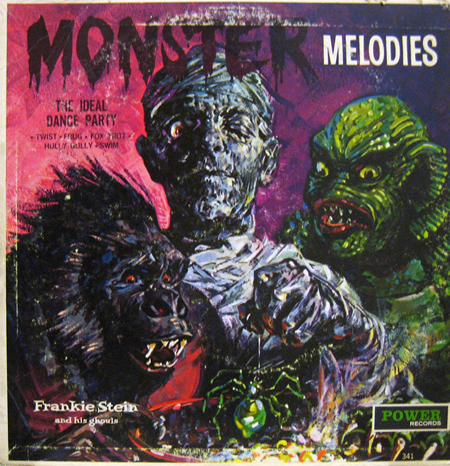 Frankie Stein and his Ghouls, Monster Melodies LP
12″ LP
Power Records – 341
An album like this is enough to scare a body into dancing anything from the "Twist" . . . "Watusi" . . . "Hully Gully" . . . "Swim" . . . "Frug" . . . "Surf" . . . "Monkey" . . . "Dog" . . . "Lindy" and even the lowly fox trot. AND without losing a DEAD beat. . . .

The monster maestro (Frankie Stein) is a graduate of the mausoleum of music at the University of Paris Green . . . He plays guitar with three hands and conducts with the other two. He is DEAD serious about his music. Many critics have hailed him as "hideous" . . . "ghastly" . . . "horrormonius" . . . etc. etc. etc.

This record was recorded with the fabulously eerie sound of Power Records new D.D.T. method. The die-namic sound with the DEAD beat that has everything to make your dancing party a HOWLING success . . .
For more on this ghoulish guru, try these links:
Vintage Vinyl Revival – Watusi Zombi
Complete album discography at Scarstuff's blogspot
Power Records Plaza
Tracklisting
---
Side A:
Doctor Spook (Twist)
In a Groovy Grave (Watusi)
Frog Frug (Frug)
Melancholy Monster (Hully Gully)
Haunted Mouse (Slow Rock, Surf)
Side B:
Ghoulish Heart (Hully Gully, Twist)
Dressed to Kill (Fox Trot)
All Choked Up (Surf)
Swingin' Head (Swim)
Ain't Got No Body (Mashed Potato)
Other Frankie Stein Albums: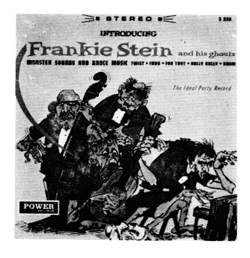 Introducting Frankie Stein and his Ghouls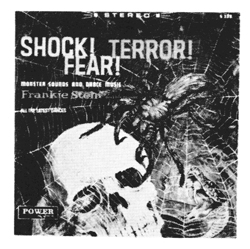 Shock! Terror! Fear!

Ghoul Music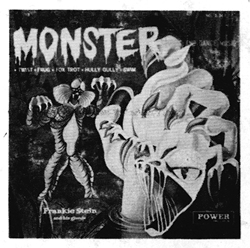 Monster