PK9: Glory, Dominion, Power, Majesty
PK 9 – VARIOUS ARTISTS
PK Records
Half Moon Productions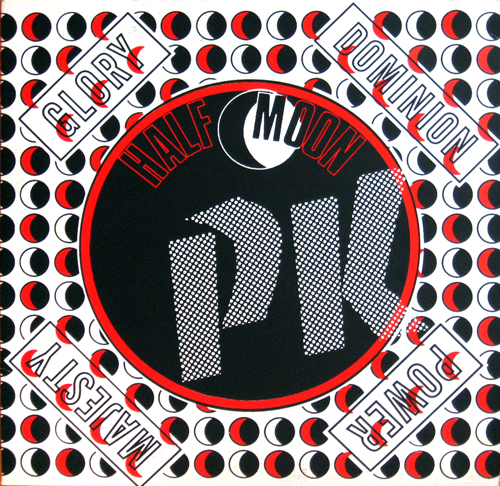 12″ 2xLP Compilation
Produced by Oswald Creary, Half Moon Productions
Super 8 Corporation: ossie, JJ : Drums, Vinnie: Keyboard, Mordercai: Guitar, Ardley: Bass, Horny: Saxophone
Of all my reggae records, Glory, Dominion, Power, Majesty has been my favorite by far – super dread roots rasta reggae from well off the beaten path. Cohesive and connected, this compilation plays like an album, each track more solid than the last.
When I sold my reggae collection on Ebay, it was available to top enthusiasts across the globe. Collectors from as far as Brazil, Japan and France paid top dollar and picked off almost every record from my selection. When this record was one of the only ones that didn't sell, I concluded a few things: 1) This record and I weren't meant to part ways just yet. 2) Few have likely heard of this record, let alone the players captured on it. 3) This record needed some recognition. So here it is, my pick for the greatest reggae compilation of ALL TIME.
With only eight prior releases (this being PK 9), we're not talking about a big label here. The only other experience I've had with PK was PK 5 Darker Than Blue, Soul From Jamdown, 1973-1980 – an equally crucial collection of rarities, though a more-soulful compilation. Honest Jons provides the only other info I've come across on PK 9:
From the seventies and early-eighties heyday of this Toronto-based reggae label, when it played host to stars like Augustus Pablo, Johnny Osbourne and Leroy Sibbles. Raw, twisted, compelling, at times staggering.
TRACKS:
Bold tracks are included in this podcast.
Joe Higgs – Creation
Stranger Cole – Freedom, Justice & Equality
Super 8 Corporation – Freedom Version
Louis O'Conner – Lonely & Black
Dill Smith – Set Me Free
Super 8 Corporation – Free Version
Pluggy Satchmo – What Rasta Say
Stranger Cole & Jah Levy – I'm Living
Rothadam – Sampson
OJ – Things Felt Right
The Blenders – Why Did You Run Away?
Johnny Osbourne – Danger in Your Eyes
Bingi Kicks & G. Campbell – Sky Jack
Leroy Sibbles & Otravis Band – Sky Jacking Version
Bongo Ossie & the Moonlights – Black Society
Pluggy Satchmo – 23rd Psalm
Carl Dawkins – Luv is Needed