Let's Go! with the Routers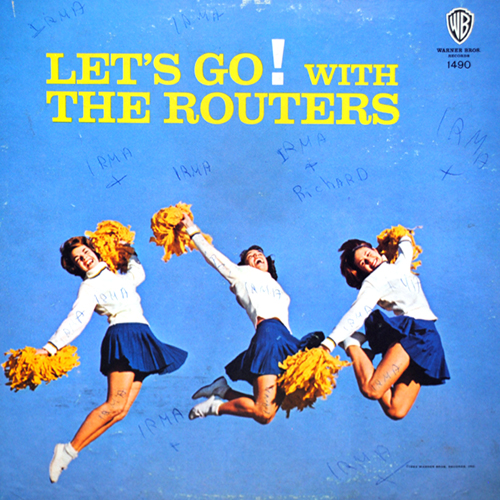 Let's Go!
with the Routers
1963
Warner Bros 1490
12″ LP Album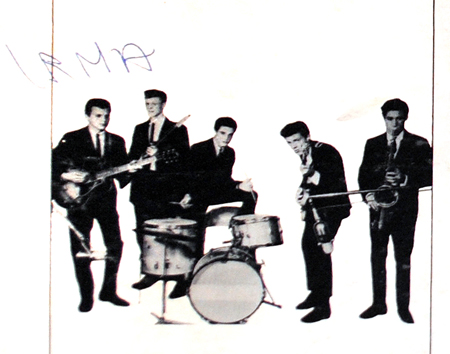 I don't know what I love more about this record; its cheerleading / pep-rally theme, or the fact that it is adorned with the name of a one "Irma" no less than 27 times. You just don't see much of that name anymore. According to the book, this blatant disregard for the integrity of the album art would decrease its condition rating from a VG+ to a VG- (effectively cutting the value of the record to 1/4 of its original value). But to me, such carelessness renders this a priceless one-of-a-kind time-capsule of days gone by.
For the longest time I was certain it was Irma who wrote her own name over and over, but on closer consideration of the only other name on the album (in "Irma + Richard"), I wonder now if it could have been Richard who was infatuated with Irma – who just so happened to be a cheerleader! I suppose we might never know. *sigh*
As far as the music goes, I love the simple upbeat hand-clapping, foot-stomping quality of this old-school rock and roll, and the fact that the only lyrics on the entire album are: "Let's Go!", "Go, Go, Go!" and to counter any otherwise predictability… "Bucket seats! Bucket seats!"

The "Irma"s continue here on the back of the cover.
TRACKLISTING:
SIDE 1
Let's Go
Pep Rally
Limbo Rock
Grandstand Stomp
Bucket Seats
Half Time
SIDE 2
Sting Ray
Mating Call
Let's Dance
Snap Happy
Mashy
Make It Snappy