Miss Lana Rebel : All I Need

'All I Need' LP, album art by Miss Lana Rebel herself.
MISS LANA REBEL
ALL I NEED
---
12″ LP WAN050
Wäntage USA Records
---
I usually only present to you here oldschool vintage vinyl, but I'm making an exception for this newly released, yet instantly timeless album. The music of Miss Rebel is so inline with my nostalgic old-western mindset as of late, that this record literally hasn't left my turntable in the couple weeks since I've owned it – with the exception of flipping it from A side to B side and back.
It wasn't really coincidence that I was horribly hung-over when I first listened to this record (I had purchased it from Lana the night before at the peak of my high on Total Fest), but upon hearing the hung-over heartache in her own lonely voice, it couldn't have been more appropriate that I was. When you listen to this record, if you're not awakening squint-eyed and melancholic to the Sunday afternoon sun, you just might yearn to be; Lana's languid and lulling cowgirl crooning provides a sentimental comfort in the blues.
Lana, herself, describes the music simply as, "Shed those tears, baby. It'll be all right."
The album itself is a collector's item. Only 208 LPs were printed, each numbered and autographed. The beautiful album art was created by Lana herself, and is complete with a handcrafted lyric sheet, full of even more hand-drawn rustic cowboy scenes. From the raw paperboard construction to the hand-stamped spines, this album has a unique DIY, yet very professional flavor.
Hear more from Lana herself:
http://lanarebel.com
http://myspace.com/lanarebel

Available on Missoula's own Wäntage USA Records:
Read Wäntage's review, then Buy the album
'Loneliest Love Song' on YouTube:
http://www.youtube.com/watch?v=cxdKq_tBuq4
BBC Coverage of Lana Rebel, and Juanita Family:
http://www.bbc.co.uk/dna/collective/A4138986
http://www.bbc.co.uk/radio1/onemusic/huw/juanitafamily.shtml
Where it all started for Lana: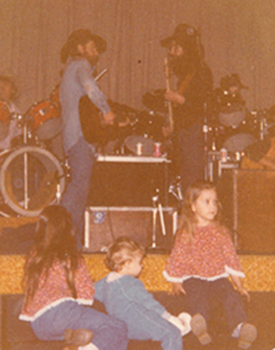 Little Lana, her sister and cousin at a rehearsal for Honeysuckle Rose.
My dad was a crew member during the filming of Honeysuckle Rose. My first trip on an airplane took us out to Austin for a few weeks where we stayed with Dad at the hotel, and got to meet the band and cast. Pretty neat. I remember dancin on my dad's feet at that rehearsal. And Paul English riding up on his motorcycle. They were teaching Amy Irving some of the songs for the film. Everyone was so sweet to us. I remember my mom being really happy about how humble they all were, and kind to the crew families. A virtue that I can certainly apreciate now that I'm grown up. Thanks Willie and Family! Thanks, Mom and Dad!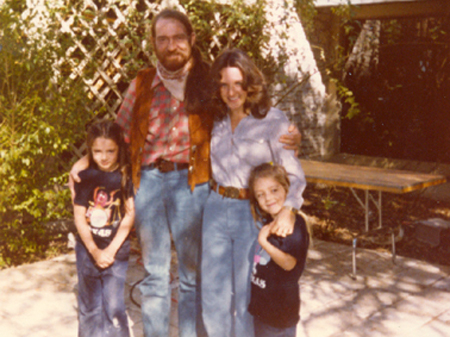 Little Lana, sister, mom, and Willie.
Credits
---
Lana Rebel
: Acoustic and Electric Guitars, Lead and backing Vocals
John Schier
: Trap Kit
Chris Coyle
: Trap on "When I'm Gone"
Matt Strachota
: Rhodes, Dobro, Nylon String Acoustic
Jim Austin
: Upright Bass
Pall Jenkins
: Saw
Matt Parker
: Lap Slide, Electric Guitar
–
All songs written by Lana Rebel, © 2007
except "Purify" written by Rev. James Jordan, © 2007
Recorded Feb. 2007 at
Stereo Disguise Recording Laboratories
by Pall Jenkins – San Diego, CA
Produced by Pall Jenkins and Lana Rebel
Mastered by Rafter Roberts
Tracklisting
---
Side A:
1. When I'm Gone (3:07)
2.
Loneliest Love Song
(4:14)
3. You Gotta Wait (3:07)
4. Li'l Bear (3:15)
5.
Woke Up One Mornin'
(3:19)
6. Dreaming Of You (2:33)
Side B:
1. Road Song (2:32)
2. Purify (3:16)
3. Blue Song (3:36)
4. Yes Is Better Than No (3:15)
5. All I Need (5:04)