Ray Stevens' 1,837 Seconds of Humor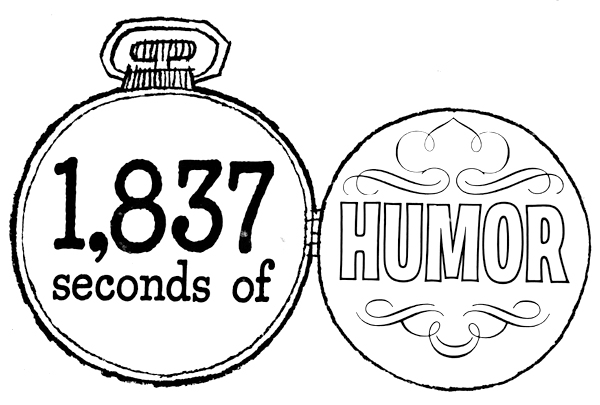 RAY STEVENS
with The Merry Melody Singers
1,837 SECONDS OF HUMOR
1962
MERCURY
MG 20732
12″ LP Album
In response to the question, "And what's the deal about being a hermit?" :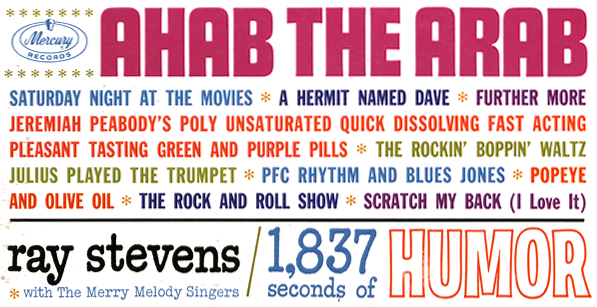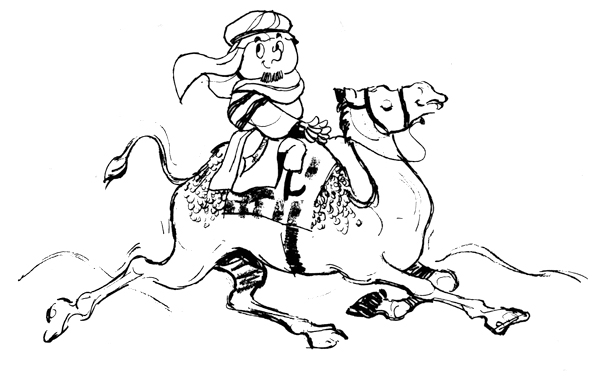 Ray Stevens is celebrating 50 years in the music biz. This album was one of his first, which was followed by a slew of records, hits, and ridiculousness. The joker is still producing too! If you weren't in the Ray Steven's loop already, check out his official site, and buy some merch:
http://raystevens.com
Or watch some Ray Stevens videos:
Ray Stevens on YouTube
From the liner notes:
THE KID FROM CLARKDALE

(Reading Time: 180 Seconds)

If Clarkdale, Ga. has had few claims to fame to date, it has one now, in the person of Ray Stevens, a multifaceted talent who was born in that town.

Ray sings. He is a skilled satirist. He is an accomplished songwriter (with more than 40 hits to his credit, including Sergeant Preston of the Yukon). He plays piano, trumpet, sax, clarinet, bass, drums, tuba, mellophone and violin. He took his first music lesson at the age of 6; by the time he was 15, he was fronting his own combo. At the same tender age, he became a leading disc jockey in Albany, Ga. (on station WGPC); a year later, he was carrying on inimitably for viewers of WALB-TV in Albany. After a stint as a music major at Georgia State University, he was ready for the giant-sized rewards of show business.

Today, when he isn't roaming around the country on assorted projects, Ray can be found zooming around Atlanta, Ga. (his current home) in a gleaming Italian sports car. When he is spotted in such flight, the slender (six feet tall, 140 pounds), dark (brown eyes, black hair) sportsman usually is headed for the nearest water hole. But such diversions are rare for Ray these days.

Throughout [this record], Ray is assisted by the Merry Melody Singers and orchestra conducted by Jerry Kennedy. Both the Merry Melody Singers and orchestra conducted by Jerry Kennedy found it extremely difficult to concentrate on the music at hand during the recording of this album. It isn't that all hands aren't first-rate professionals. They are. It's that Ray Stevens' wit is enough to turn any reasonable soul into a giggling mass.

Try this 12-inch sampling to hear what we mean.
TRACKLISTING:
AHAB THE ARAB
225 seconds
SATURDAY NIGHT AT THE MOVIES
162 seconds
POPEYE AND OLIVE OIL
185 seconds
THE ROCKIN' BOPPIN' WALTZ
95 seconds
PFC RHYTHM AND BLUES JONES
128 seconds
SCRATCH MY BACK (I LOVE IT)
124 seconds
THE ROCK AND ROLL SHOW
262 seconds
JULIUS PLAYED THE TRUMPET
155 seconds
JEREMIAH PEABODY'S POLY UNSATURATED QUICK DISSOLVING FAST ACTING PLEASANT TASTING GREEN AND PURPLE PILLS
142 seconds
FURTHER MORE
139 seconds
A HERMIT NAMED DAVE
220 seconds
Total 1,837 seconds