Sheryl Johnson's Tune Tote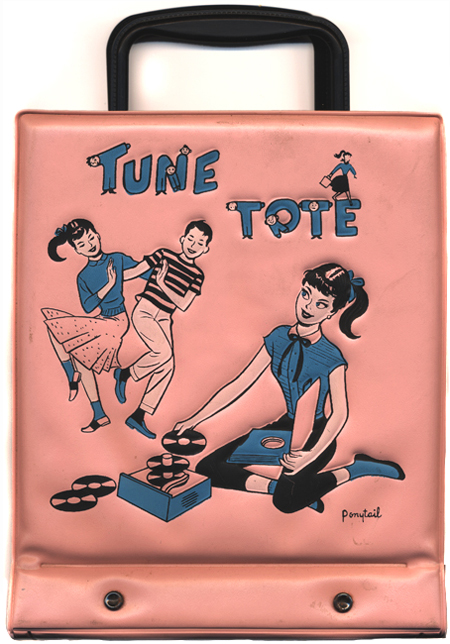 These little tune-totes must have been a short-lived trend in the hey-day of 45rpm singles. I was pretty excited to come across this one in an antique store, especially considering it still has what must be the collection of the original owner. The name & address sticker of one Sheryl Johnson plastered on each of the records clued me in. I like to imagine a teenage Sheryl showing off her tune-tote to her friends, or sitting by herself listening to "Johnny Angel" and longing after her latest crush.
While I might never know who you really were, I thank you Sheryl for the time capsule of music. By the way, I'm keeping your nostalgic collection in its rightful place in the tune-tote.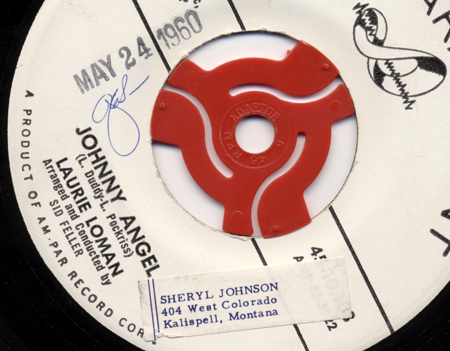 UPDATE : Two years after this original post, through the miracle of the modern search engine, Sheryl was vicariously reunited with her tune-tote. She had the following to add to the story:
Yes…I collected the records at the time they came out. If I remember correctly, I would have been around 12-14 years old. I'm now close to 63 years old…born in 1947.

In those days, we could go into a record shop and listen to the record we wanted to buy in a little "sound proof" booth to be sure it was what we wanted to buy. At that age, I primarily bought 45′s rather than LPs due to the limited amount of money I received as my allowance in those days. Yes…those were the original records I carried [in the tune-tote] although I probably "mixed them up" with whatever I was keen to share with friends as we went back and forth between each other's houses.
Set List:
---
The Cadillacs
Woe is Me
45-798 7″ 45rpm Single (Josie)
http://www.amazon.com/Best-Cadillacs/dp/B0000032SG
http://www.amazon.com/Spotlite-On-Josie-Records-(Series)/e/B000APHSG4
---
The Fabulons
Smoke From Your Cigarette
E-1069 7″ 45rpm Single (Ember)
---
Johnny Duncan
Freddy and his Go-Cart
L-812 7″ 45rpm Single (Leader)
---
Leroy Vandyke
I Fell in Love With a Pony Tail
Auctioneer
45-15503 7″ 45rpm Single (Dot)
http://www.leroyvandyke.com/
---
LaVern Baker
St. Louis Blues
45-1163 7″ 45rpm Single (Atlantic)
http://www.oldies.com/product-view/62312.html
---
Bob Denton
Playboy
45-15833 7″ 45rpm Single (Dot)
http://www.last.fm/music/Bob+Denton
---
The Everly Brothers
Wake Up Little Susie
1337 7″ 45rpm Single (Cadence)
http://www.amazon.com/All-Time-Original-Hits-Everly-Brothers/dp/B00002MZ3A
---
Laurie Loman
Johnny Angel
45-10,108 7″ 45rpm Single (ABC-Paramount)
http://www.doowopshoobop.com/girl.html#sb101
---
Reed Sherman
Don't Call Me, I'll Call You
FF-1600 7″ 45rpm Single (Demon)