#081215 - 1913 Christmas Massacre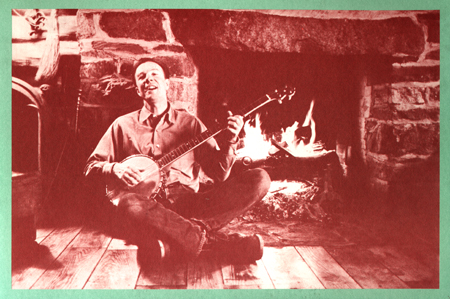 Pete Seeger, Traditional Christmas Carols LP album art.
---
In the spirit of our economic plight this holiday season, I've got some good ol' folk music and throwback dust-bowl tunes for your listening pleasure.
I recently watched PBS's American Masters on Pete Seeger: The Power of Song, and have been meaning to play more of his music on the radio. In this set he sings a peaceful Christmas carol – not what you might expect from a so-called anti-capitalism freedom-hating commie. I've got quite a few records from the folk-revival era (on top of many original folk, before folk, albums), and it's interesting to see how inter-influential a lot of these old folk balladeers were. In this here set, arising even out of the spontaneous format of a live broadcast, I happened to piece together a number of artists paying tribute to each other.
Let's see, what have we got here… These first two albums are total gems. People like "Tex" Carmen, and Alberta Slim, are in a way more folk than folk; you never hear of them, yet there they were, crooning and strumming their western style as well as anybody ever to follow – in fact better, as their authenticity can't be replicated (yeah, yeah, you can argue that none of those singing cowboys were actual bronc busters, but I'm talking about musical authenticity).
Next, we've got the grand-daddy of yodeling cowboys, Jimmie Rodgers, and another Jimmie paying tribute to him directly after. We've got Ed McCurdy singing an arguably anonymous number, Blood on the Saddle, though I believe Tex Ritter and Marty Robbins both popularized it. The man, Alan Lomax himself (yes the man responsible for digging up and recording numerous would-have-been unknown musicians) strums his own guitar and sings us a bluesy little folk song. Tom Paxton (another one at the core of folk-revival) pays direct tribute to the original ramblin' man Cisco Houston, who in turn tips his hat to Woody Guthrie; Woody follows it up with the original of the same. Ramblin' Jack Elliot gives us another Guthrie tune, 1913 Massacre, which is the beginning of an unassuming dose of Christmas music here. Seeger adds to the holiday cheer, and revolutionary Malvina Reynolds (who apparently wrote Little Boxes) tops it all off with an oddly cute religious carol, while representing the "children-song" factor of folk music.
I hope it's all a pleasing soundtrack for your holiday. A merry Christmas and Happy New Year to you and yours. May you have plenty of food upon your table in 2009… and the cupboards well-stocked for 2012.
Set List:
"Tex" Carman
Get Along Pony
12″ 33rpm Album (Crown)
Alberta Slim with the Bar X Ranch Boys
Little Tin Cowboy
12″ 33rpm Album (RCA Camden)
Jimmie Rodgers
Rough and Rowdy Ways
The Legendary Jimmie Rodgers Vol. 1
12″ 33rpm Album (Country Music Magazine)
Jimmie Skinner
Never No Mo' Blues
Jimmie Skinner Sings Jimmie Rodgers
12″ 33rpm Album (Mercury)
Ed McCurdy
Blood on the Saddle
Songs of a Bold Balladeer
12″ 33rpm Album (Riverside)
Alan Lomax
Godamighty Drag
Texas Folk Songs
12″ 33rpm Album (Tradition Records)
Tom Paxton
Fare Thee Well, Cisco
Ramblin' Boy
12″ 33rpm Album (Elektra)
Cisco Houston
Blowin' Down the Road (I Ain't Going to be Treated This Way)
Cisco Houston Sings the Songs of Woody Guthrie
12″ 33rpm Album (Vanguard)
Woody Guthrie
Ain't Gonna Be Treated This Way
The Legendary Woody Guthrie in Memoriam
12″ 33rpm Album (Tradition)
Rambling Jack Elliot
1913 Massacre
12″ 33rpm Album (Vanguard)
Pete Seeger
Glory to That New Born King
Traditional Christmas Carols
12″ 33rpm Album (Folkways Records)
Malvina Reynolds
In Bethleham
Artichokes, Griddle Cakes and Other Good Things
12″ 33rpm Album (Pacific Cascade Records)